A Visit to your School or Nursery

CeilidhKids would love to come and lead a session of dancing at your school or nursery!
Here are a few things to bear in mind.
Schools

Dancing with schoolage children is a rare privilege and one we enjoy very much! We'd be happy to come out to your school to run sessions during the school day (or to run an evening ceilidh, but the 'Planning a Fundraiser' page would be more relevant to that sort of event).

Schoolage children can partner each other but P1s would benefit from a ratio of 1 adult to around 8 or 10 children. So in a full P1 class we would need a teacher and also a parent, student or classroom assistant in addition. P2s and upwards will be fine with just their teacher as additional adult. The size of the room is the only limit on numbers, but the bigger the group, the longer everything takes to organise.

*******************

Around 45 minutes is a good length of time for a daytime ceilidh session - perhaps a little less for younger children or a little more for older ones. Please bear in mind that we get VERY busy around St Andrew's Day, Burns' Night and Christmas, so book well in advance and prepare to be flexible on dates and times…

Looking forward to dancing with you!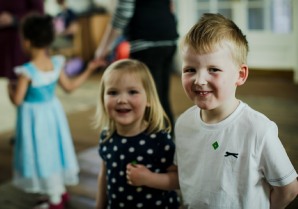 Nurseries

We love nursery aged children at CeilidhKids! But they need a 'bigger partner' to help them - they can't follow the instructions by themselves. Wee ones need an adult's hand to hold, so ideally you will need at least half as many adults as children. If your nursery class is in a school, we have found that P6s and P7s are very good at taking the role of helpers. If not, perhaps you could get some parent volunteers to come in. You could always divide the children into two groups and have a team of adults to support one group followed by the other.

If 'big helpers' are impossible to find, we can still at least do something, and would be happy to come in and run just a one-off fun session for you with a couple of staff to assist. However ceilidh dancing really involves having partners, following instructions, and everyone doing the same thing at the same time, and this can be tricky for tinies without adult help. A group which is comprised almost entirely of under-5s is very limited in what they can achieve which resembles a ceilidh at all and you might be better just putting on a CD and letting them have a nice time…

Sessions with helpers can be very successful but experience has shown that it is better to limit the arrangement to a single event or a block of sessions rather than attempting to run 'a class' in a nursery setting for an open-ended period of time.

If possible, try to use a school hall or church hall - nursery classrooms tend to be too small for dancing. Dancing outside is fine in warm weather but miserable in the winter!